Support Jesus Club to help everyone discover God's love and make an everlasting difference to adults with intellectual disabilities.
The gospel is for everyone
Sadly, with few suitable faith communities, particularly in regional areas, discovering God's love can be beyond the reach of many adults with intellectual disabilities, who remain one of the most unreached people groups for the gospel today.

But Jesus Club is changing that, by helping churches establish ministries dedicated to sharing the gospel to adults with intellectual disabilities in a way they understand.

Twenty-two churches in New South Wales, Victoria and soon Tasmania are already part of our network of Jesus Clubs that help members embrace the message of Christ. And we can start 12 more in the following year, many in regional areas.

But we can't do it without your support.
Your financial gift will help us start new Jesus Clubs and provide churches with Biblical-teaching resources and training to help adults with disabilities discover God's love - sowing the seeds for a friendship with Him forever!

Please make your tax-deductible gift today.
You will make an everlasting difference to the lives of people with intellectual disabilities.
Help Everyone Discover God's Love with your gift today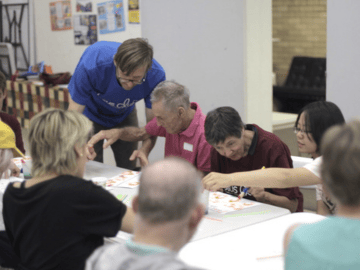 $125
To provide a Jesus Club member with one term of gospel teaching.
$360
To equip Jesus Clubs with one new Biblical-teaching module.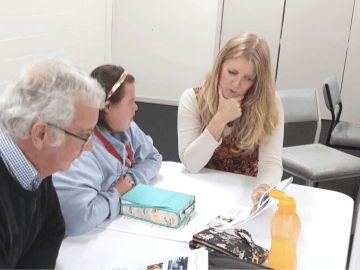 $500
To pay for 1/10 of the cost of starting a Jesus Club in a new regional area.
See how our gospel partnership is helping churches
"Jesus Club helps churches to acquire the skills and tools they need to run a programme that welcomes adults living with an intellectual disability into our churches. They are also a source of continuing support and sharing of information to help and encourage churches in what is often a new ministry for them.

Our church has run a Jesus Club for over 5 years and we have had the joy and delight of watching our Jesus Club members (and leaders) grow in knowledge and love of God and Jesus and in love and care for one another."
"We've seen people baptised. We've seen people grow in their faith.

Jesus Club the organisation supports us in that they helped to train us. They give us ongoing support and most importantly, they provide materials so that we don't have to kind work out what is what is best practice for for teaching people that intellectual disability, the word of God.

"Jesus Club is a ministry that provides the gospel to a people group that is often overlooked. While regular church is open to all, it doesn't necessarily "fit" all. At Jesus Club our members fit, and they come week after week to learn about Jesus in way that makes sense to them."
Help someone discover God's love today.